Wedding Gifts Ideas
A new marriage is a thing to celebrate. Two people finding each other in a world of over 7 billion people is truly a miracle. Love begins with a spark that is fueled with passion. As that love starts to grow, the two cannot stand to be apart from one another. One day the one asks the other to be with them forever and the two are joined in holy matrimony in front of all of their family and friends. The gift table of that ceremony is full of sparkly boxes filled with any number of useful and beautiful gifts from caring family and friends. The question many people struggle with is what to get the new bride and groom to help them start their new life together. There are many options for great wedding gifts these days.
Personalised Gifts
People enjoy getting gifts that are personalised. This can be anything from the bride and grooms full name to simple initials. One of the more popular gift ideas is monogrammed towels. The couple's initials monogrammed on decorative towels both an elegant and relatively inexpensive gift.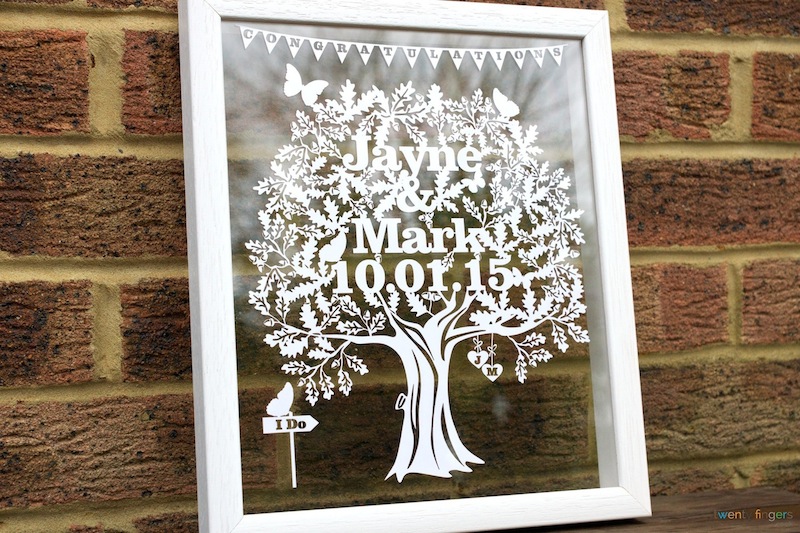 Another personalised option is a papercut from us. Our Love Tree Papercut will be forever a reminder of this most special day in the couple's lives. Another option is our Love Silhouette Papercut. Both names are etched into this beautiful piece of artwork along with a loving depiction of the couple within the frame.
Gift Baskets
It may seem like a waste to buy a gift for a couple that will be used up so quickly, but on the contrary this is a great idea. Gift baskets can be personalised to fit likes of each individual couple. A gift basket containing an array of luxurious soaps and lotions can be a very welcomed item on a romantic honeymoon. Small boxes of chocolates within the gift basket can offer a tempting treat for the new couple to enjoy after the soaps and lotions have been used.
Cook Books
Although not the most romantic gift on the surface, a cook book can give a new wife the upper hand when facing the awesome task of what to cook for her new man. A cook book is actually the perfect gift for a new bride. Unless the new wife is a trained chef she is going to have to learn on the job and that can be difficult if there is no road map to follow. Just be sure to get the couple a cook book that has easy to follow instructions and simple ingredients. There are not many new couples that can afford five star ingredients to cook a meal.
Unique Wedding Gifts
We all love to have something that very few people have. Giving a unique wedding gift will cause the couple to remember who gave them the gift for years to come.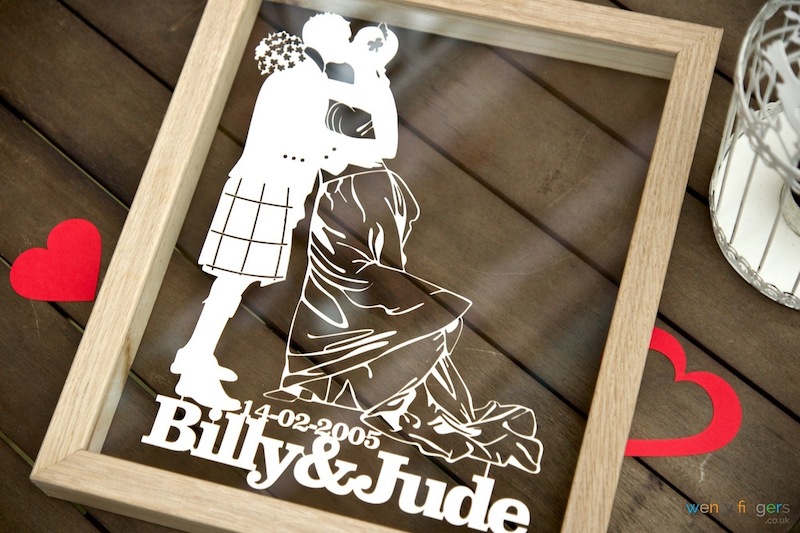 Unique and quirky wedding gifts can be conversation starters for friends and family who come to visit. It is important that the gift be unique but useful. One of the more unique and useful items I have come across in writing this is an avocado salt and pepper shaker. The pepper is the pit and it fits inside the shell of the avocado which is the salt shaker. Something like that is different enough to start a conversation, but still useful enough to be used on a daily bases.
Small Kitchen Appliances
A new couple coming together, especially young couples, have very little starting out. The less they have to buy for the home, the better off, financially, they will be. Some good ideas are mixers, toasters, and coffee makers. Buy these items in a neutral colour, unless you know the bride and groom very well, so as not to clash with the décor of their new home. You may like the colour red, but if it is not complemented by the other fixtures in the kitchen, the appliance will probably not be used very much, if at all.
Kitchen Gadgets
We all love having kitchen gadgets to make our lives easier. A new couple will enjoy them too. If they have a gadget that allows them to spend less time cooking there is more time for other things. It is, however, important that the gadget is useful. Simple devices that make cooking and prep work in the kitchen easier will be more useful than a gadget that is pretty, but of little actual use.
Wedding gifts are great to give. They let the new couple know that you care and it allows you to be helpful to the new couple for years to come without intruding on the marriage. Marriage is a lasting covenant between two people. The main point of giving a new couple a wedding gift is that the gift last as long as the marriage does.
Give a gift from the heart
Twenty Fingers is here to help with all of your wedding gift ideas. We want their day to be as special as you do.